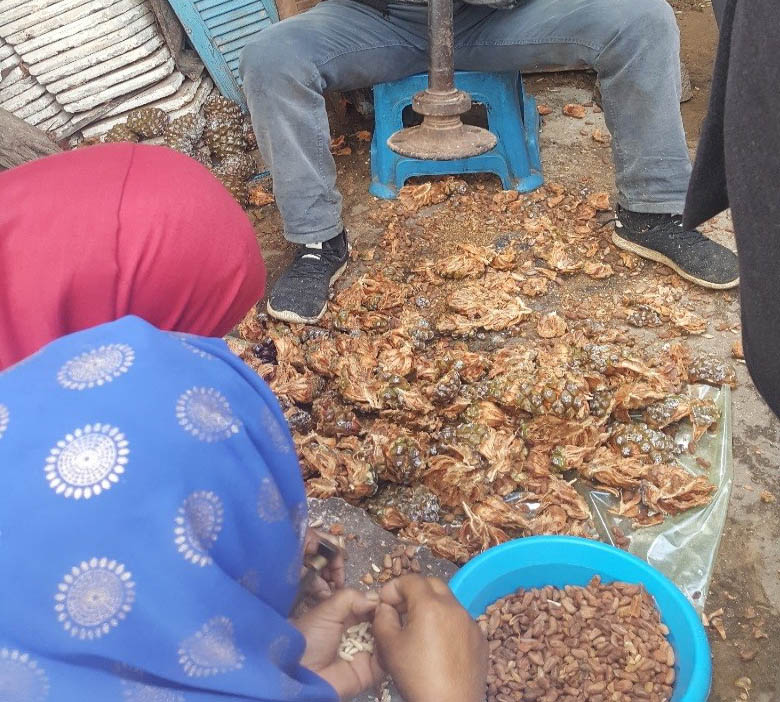 Last November 13th, more than 30 persons attended the Science to Practice event held in the north west of Tunisia (Nefza) to explore Pine nuts extraction practices and the economic importance of this product to local population livelihood.
The stone pine has been introduced in Tunisia a long time ago; the first plantations were carried out in the region of Dar Chichou (Cap Bon) and Rimel (Bizerte) at the end of the 19th century to fix the coastal dunes. The total area of stone pine in Tunisia covers around 20000 Hectares. The Stone Pine forests in Nefza delegation covers more than 5000 Hectares. Over the last 15 years, a radical change in the practice of pinion pinecone harvesting has been observed. The Administration organized auctions to sell the right to exploit these cones, but for more than 10 years, there have been fewer and fewer buyers because of the illegal harvests.
Forests are managed and administrated by the state forest agency, which are perceived as being accessible to all. The majority of people interviewed during the science to practice event recognize that it is not advisable to carry out premature harvests, but say that if they do not harvest the cones quickly, "Free riders" will do so before them. They could be pickers from the same area or from other regions. Indeed, the most suitable period to collect pinecones is during the autumn between October and November. Collecting cones during this period is very important to have the highest levels of quality and production yield. However, in Tunisia this season is held earlier than expected (start in August), causing huge losses for foresters, in terms of future production, and for the forest population, in terms of pine's quality.
Early harvest threatens local ecosystems that produce stone pine plantations as well as affects the potential effectiveness of the natural regeneration that becomes more and more impossible. Foresters asserted that pinecones do not even touch the ground because they are harvested before reaching maturity. In addition, local population tends to harvest pinecones too early to fund their children's education, as harvesting and extracting pine nuts ensure a significant income support, which could reach 6000 Dinars per family per year.
Various actors are involved in the pine nuts value chain. They are mainly informal workers given the lack of legal access to raw materials. The pine stands of pine trees are state-owned plantations managed by the forest service from the production stage at the nursery to forestry operations, pruning and thinning. Cone collectors and processors (extraction of seeds) live around the pine forest areas, which are mainly located in the north of the country. These actors are operating individually or in groups (agricultural development groups, GDA). Traders and collectors have a key role in controlling the marketing system in production areas. They have a strong relationship with large-scale traders and wholesalers who ensure the transport of harvested pine nuts to Tunis.
Actually, young people and adults living around forest areas insure the harvest activity. Workers engaged to climb trees are mainly composed of men and children. However, this activity is often carried out without necessary climbing and safety equipment. Some accidents have been reported in the Nefza region. After that, cones are transported to households to extract kernels through two steps; the extraction of seeds (after drying for a few days) then the pine nuts (over an extended period and according to demand). Women usually take care of the shelling of cones and seeds using traditional extraction methods. The extraction of pine nuts is a difficult task and labor intensive since it requires more effort to break the cone.
Another challenging problem to be addressed by DGF is adopting a robust management system of stone pine forests, which in turn would allow better legal access to forest resources by the local communities and different stakeholders involved in this activity. Furthermore, promoting appropriate technologies and equipment for more efficient extraction of pine can help to strengthen the resilience of socio-ecological systems and the economic status of local populations.
Finally, policymakers place great importance on developing inclusive and more integrated policy solutions that satisfy the needs of both foresters and forest populations. Moreover, there is still a need to transmit to local communities the importance of respecting the annual growth cycle of pine. Extension campaign, information and training courses would increase their awareness towards quality production as well as to preserve the future forest resources.